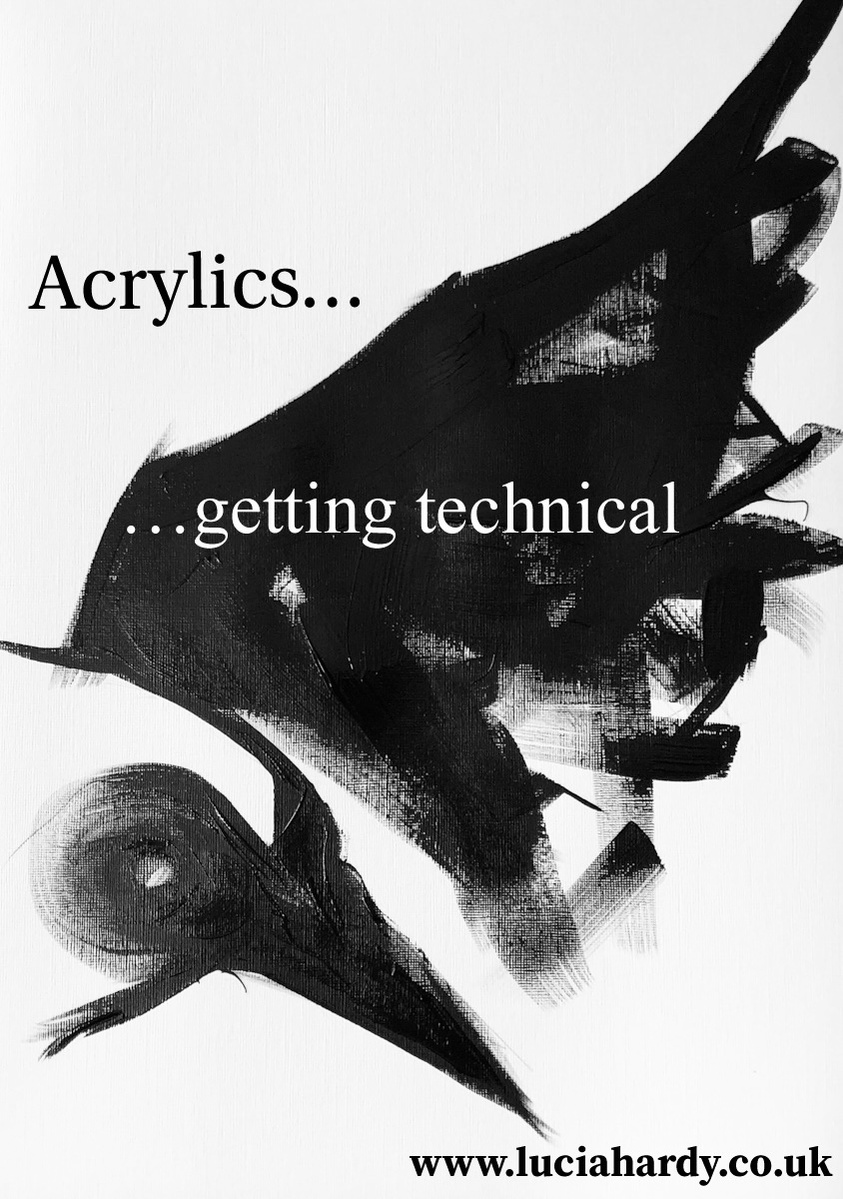 A few tips on how I like to use acrylics in my art.
There's so many ways, great books and good advice out there on the internet.
Classes and demos also give you a fantastic insight into painting methods and tricks in action.
I'm just going to get stuck straight in and tell you the things that make it all more fun and effective for me…
1. Lay it on thick
Detail from Winter Scene
Hold back on that water.
Like our first experiences of 'poster paint' at school, we know we can use water to dilute acrylics, but that doesn't mean we should. If you apply paint straight from your palette with only enough water to loosen the brush, you get vibrant colour, texture and quite bit more control over the paint. By comparison a wetter mix has a lot of beautiful watercolour features, but is very different to the undiluted version which is my favourite way of working with acrylics.
There's different brands and paint products that help you choose more of a 'heavy-body' or 'high viscosity' paint, you can also buy thickening products to add to your paint and make it thicker to work with. It's fun to experiment, push paint around a bit and see what suits you and the work you are doing best. I use my texture and colour to create movement and energy in bold, vibrant colours.
2. Use a ground.
Treeline - enquiries
A ground is a basecoat, covering your canvas or page, giving you a starting wash of colour, allowing a pop of colour or tone to infiltrate across your artwork. A contrasting or complimentary colour can be very bold and exciting (the artwork above had an orange ground which is poking through the trees and zipping against the browns and blues), or if using a more harmonious colour you can instantly and helpfully block out big sections (i.e. the blue of a sky on top of which you are painting a horizon and trees) which can stop you feeling like you have to 'colour in' your white sections, and instead focus on the energy, layers and atmosphere, even if it gets covered over - it gives you a supporting backdrop at all times as you work through the painting… nothing is missing from the get go… it's just changing.
3. Big brushes for as long as possible
A tip I got (along with many others) from the talented artist and tutor Marie Antoniou was to always use big brushes for as long as you could manage in a painting and I hold to that excellent advice. I use flat, broad brushes - you can pick up a pack of three sizes in most art and crafty shops for very little money (often as good as the expensive versions) and use these a lot before moving to my smaller/weirder brush selection to help me out at the end of the painting or for particular effects.
The biggest reason to use big brushes? It forces you to be expressive, bold and decisive, it makes your work fresh and instinctive and importantly it stops you fiddling and fussing too early on. It will seem scary at first, but trust me stick with it and you will get results. Promise.
4. Mix Colours
The magic of getting an artwork to 'sing' is often in the colour choices you make, and more specifically, the mixing of colour you do. All too often paints are used in standard colours, straight from the tube and just a simple mix or two might have elevated that work to a different level. It's always worth having an experiment, and if you're a real details man - you could make yourself colour charts starting with one colour and adding just different quantities of white and black to start, and seeing how different the qualities and applications changes as you go.
The other thing I like to do is harmonising my colours, so keeping a relatively small palette of colours and using different variations and mixes of these within a work. This means that these mixed 'children' colours are all linked together by their original 'parent' palette giving a consistency of tone and a coherent atmosphere across the painting that can really be beautiful if all goes to plan.

5. Sensing your painting and what it needs from the paint

Loch Assapol - enquiries
I look at a lot of artist's content on the web, I watch you tube videos and I read many artist's guides to this and that… one thing that comes up a lot is about your personal style, finding it, perfecting it, being consistent. This really helps when you're an artist trying to be seen in a big, big, big online and real world marketplace for art… but… I like to think that on the very top of your priority list when initiating a painting is what that painting needs (and if your style is really your natural style - it's going to come out anyway without too much bossing from your sensible, responsible side) so this means you have my permission to scrap any of the rules aforementioned… to use a biscuit to paint with - if biscuits feels required… to experiment and think about the feelings of your work and how you might communicate them to the viewer… could you flick, scratch or drip paint to get a sense of weather / emotion / charge? What marks could you make to evoke the atmosphere you are feeling as you paint?
The beauty of acrylic is that when your mind goes off piste - the paint says 'great, I can do that too!' Watery transparency to tactile, craggy ridges. Flicks and tricks, solid blocks or skittery scumbles - you name it, it's got your back.
So be creative, see what happens and if you fancy - come back and tell me all about it.
Moorhen - enquiries
Thank you for reading x
Check me out on Instagram, facebook or keep in touch via my bi-monthly art journal here.