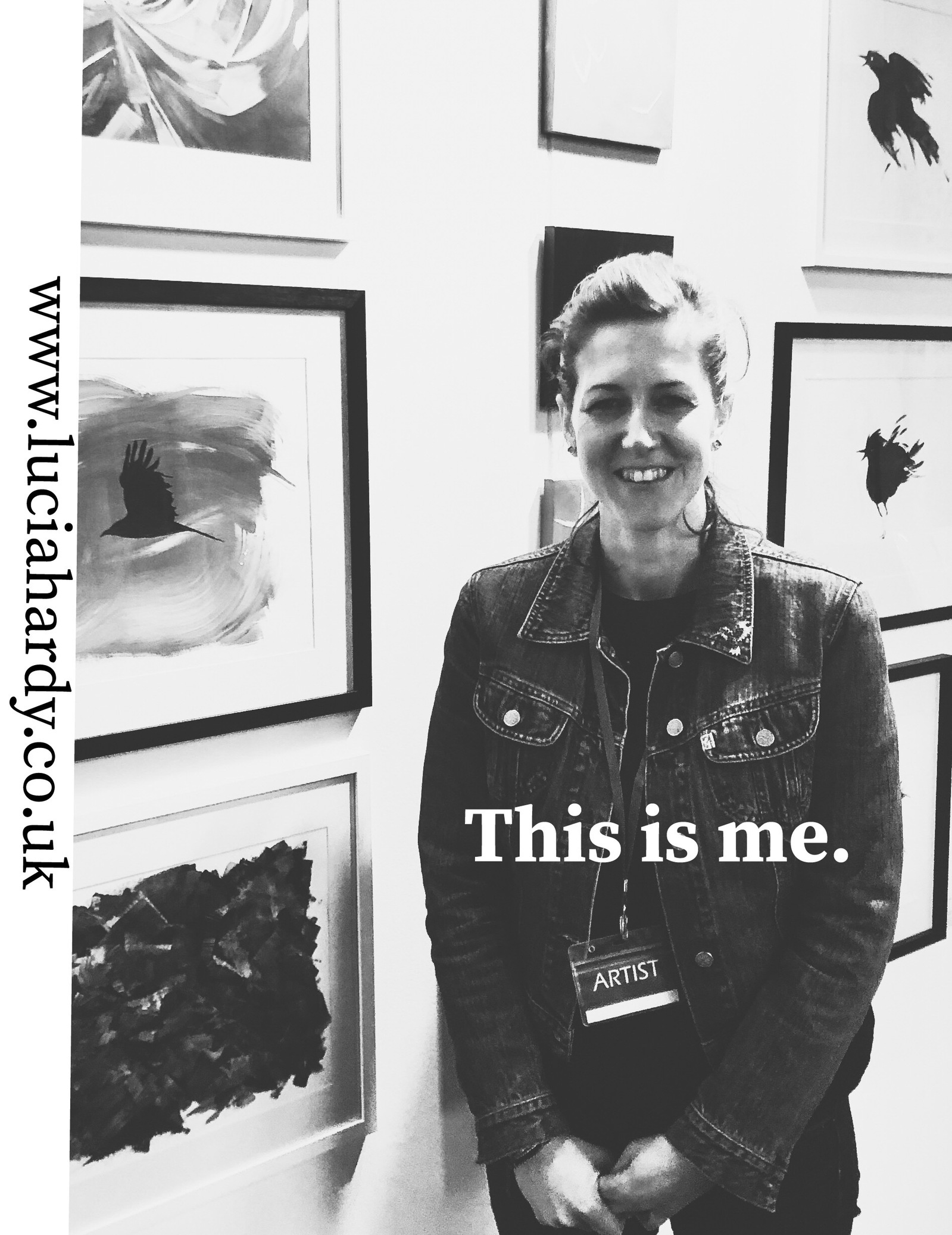 Well hello!
You're reading my first ever blog post. Thanks so much!

I thought I would kick things off with a little creative overview of me.

I'm Lucia and I'm an artist.

I paint expressive and emotive birds, wildlife and wild landscapes.
Sometimes dark, often blue, I love dusk-like, jewel colours.
My work is about nature's struggle with survival and how the wild world can inspire us to adapt and grow.
'The Crow' 'Sky & Crow' and 'We' Limited Edition Prints.
Crow's feature strongly in my work.

They are beautiful, strong and full of character and they also seem to represent something old, dark and symbolic that draws me in again and again.
Although my roots and influences extend across Europe, with grandparents from Italy, Ireland and Lithuania - England and Great Britain are my home. I find the UK's natural beauty, variety of landscape and verdancy, awe-inspiring. British wildlife is tough and adaptable, whether flourishing or grafting for survival. We have so much to value here and yet so much to still discover about how we all fit within it.
' Winter Scene' Limited Edition Print, 'Winter's Bramble I' and a detail from a commission 'Winter Walk'.
I live on the borders of Essex and London with my family, in the beautiful and very green London Borough of Havering. Having grown up in and around London, I like living between the buzz of the city and the many green spaces on my doorstep. From my house, I head east and hit farmland, forests, nature reserves and country pubs with pies as big as your head.

I love exploring nature and heritage sites in Essex and the South East and I take photographs, sketch and paint outside 'en plein air', which is part creative process, part lifeline for me. I love the outdoors, and just so you know, whenever I'm peer pressured into the old moan about the wet weather - I'm faking it. I love the rain.

I'm an artist who is fairly new to the professional game, having spent my life making art, but working in different fields. I studied Psychology at university. I spent a long time working in the public sector and the NHS in East London, in what was known (in management lingo) as a Transformation Specialist. Funny how, in a way, I'm still trying to do that, except these days I use a paintbrush, am wearing some seriously scruffy clothes and send my ideas out into the world like messenger crows hoping that they find the right people at the right time.
Despite all the glamour of the lives we see on screens today, I don't believe anyone's life is ever truly easy, and I don't think it's supposed to be. We've all had tough times and wonderful times, with our eyes open we know that both are also still yet to come.

For me, appreciating that balance is the challenge of life and the inspiration for my art.
I'm quite a practical person, I could regale you with tales of my weird and wonderful interests and experiences, and in time I'm sure they will come out here in the blog. In general though, when I'm unsure about something, I like to deal in facts, science and stand on solid ground.
But art is in a different territory and if it's good, it can be powerful and yet still can't be put neatly into boxes.
To me, art deals in the unsaid, the emotions and the ideas that drive us and might not always make sense to the rational mind.
I believe art, in all forms is, deeply important to us all and making art is my way of both expressing myself and in sharing, inspiring, challenging and uplifting others.

It's a wonderful thing to have in your life.
***

Thanks so much for reading my first blog post.
Check out my social media (IG, FB) for notice of my next post or keep in touch with all my latest news, chat and blog posts via my bi-monthly Art Journal here.