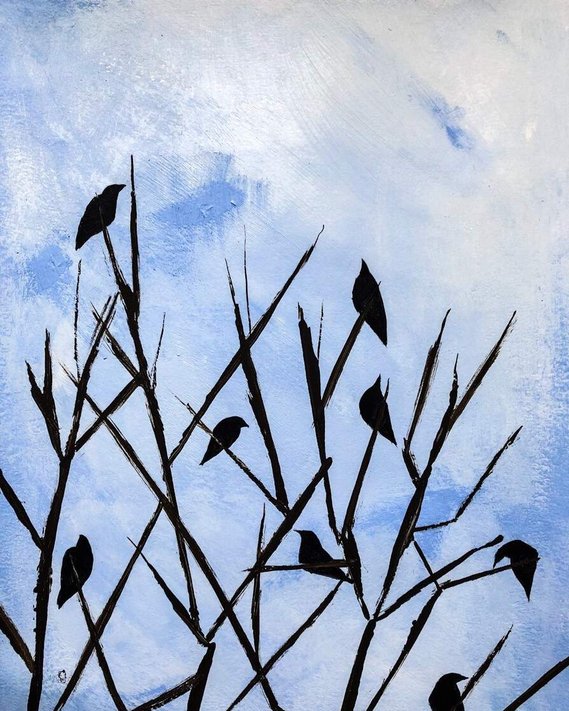 Artist Biography
Lucia Hardy is an expressive wildlife and landscape painter based in Harold Wood,working across London and Essex.

Born and raised in London, to a family of Italian, Lithuanian and Irish heritage, Lucia was a natural creative and grew up making art from a very young age. After college, she developed her art practice whilst studying for a Psychology degree and later, alongside a successful career, solving management problems in the NHS. In 2018, Lucia began her professional art career, in a move to dedicate more time and focus on her work and practice.
Lucia's characterful and distinctive works depict crows, birds, wildlife and wild landscapes. The artist uses a rich palette of dusk-like and jewel colours, with texture, contrast and expressive marks, evoking movement, vitality and energy in her work.
Her interests lie in the strength and adaptability of nature, in the bond we have with the wilderness and what we can learn from these old and powerful connections.
Lucia spends time walking, sketching, painting en plein air and taking photographs in the many green spaces near her home, as part of her creative practice. Working from her garden studio, she develops ideas, finds music and inspiration for her work, to build a connection to a piece or body of work. When Lucia paints, she uses instinct and physicality to guide her mark making.
Lucia is an exhibitor at Roy's Art Fair (Oxo Tower 2019, TrumanBrewery 2019) and a member and exhibitor with the Colchester Art Society (Summer Exhibition 2019, 2020, Winter Exhibition 2019, 2020). Lucia is represented at the George Farnham Gallery in Suffolk and is a member of several local art networks/collaboratives. The artist undertook a month's artist in residency at Essex Wildlife Trust, Fingringhoe Wick Nature Reserve in October 2019, and has exhibited at selected local and regional art and special interest events.